A favorite kitchen moment for us at TRF is when we step back from a recipe and realize the ingredient list is largely sourced from our community of local food artisans. We wanted to take this opportunity to introduce some of these vendors, and explain why we love using their products! To make our Rhubarb Earl Grey Oatmeal Bars, we used Maine Grains flour, which is locally grown and stone ground. We incorporated Aurora Mills oats, which are grown and milled on their hands-on family farm. We always love to use Casco Bay Butter. They source cream from Northern New England farms, and craft their product in small batches right in Portland. The cinnamon in our bars comes from Gryffon Ridge, a fantastic local spice merchant that sources the highest quality product from around the world. Another local staple we feel lucky to have access to is sea salt, and ours comes from Maine Sea Salt. Their salt is totally natural and sun dried in shallow pools. Finally and as local as it gets (from our own kitchen), we use the TRF Rhubarb Earl Grey spreadable fruit.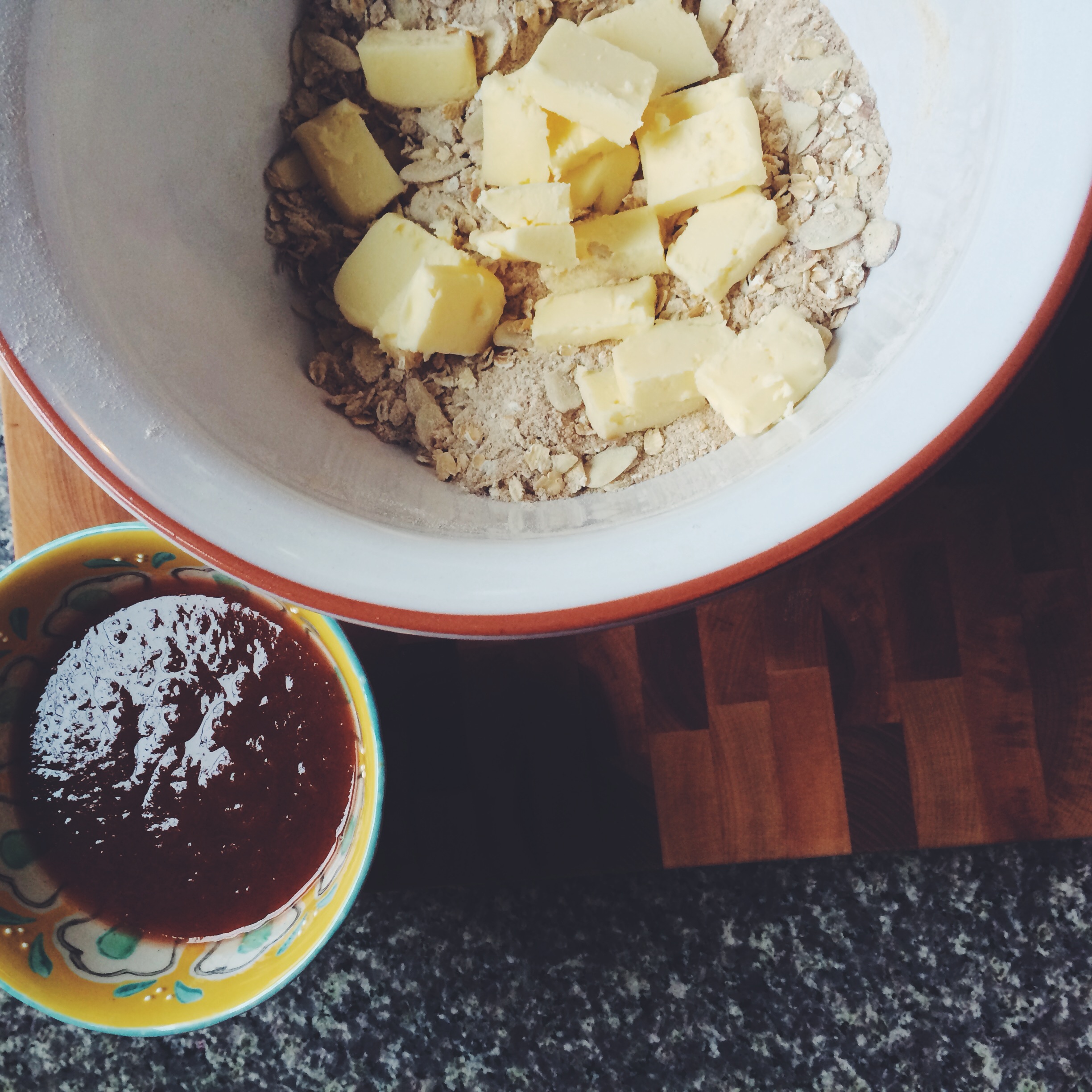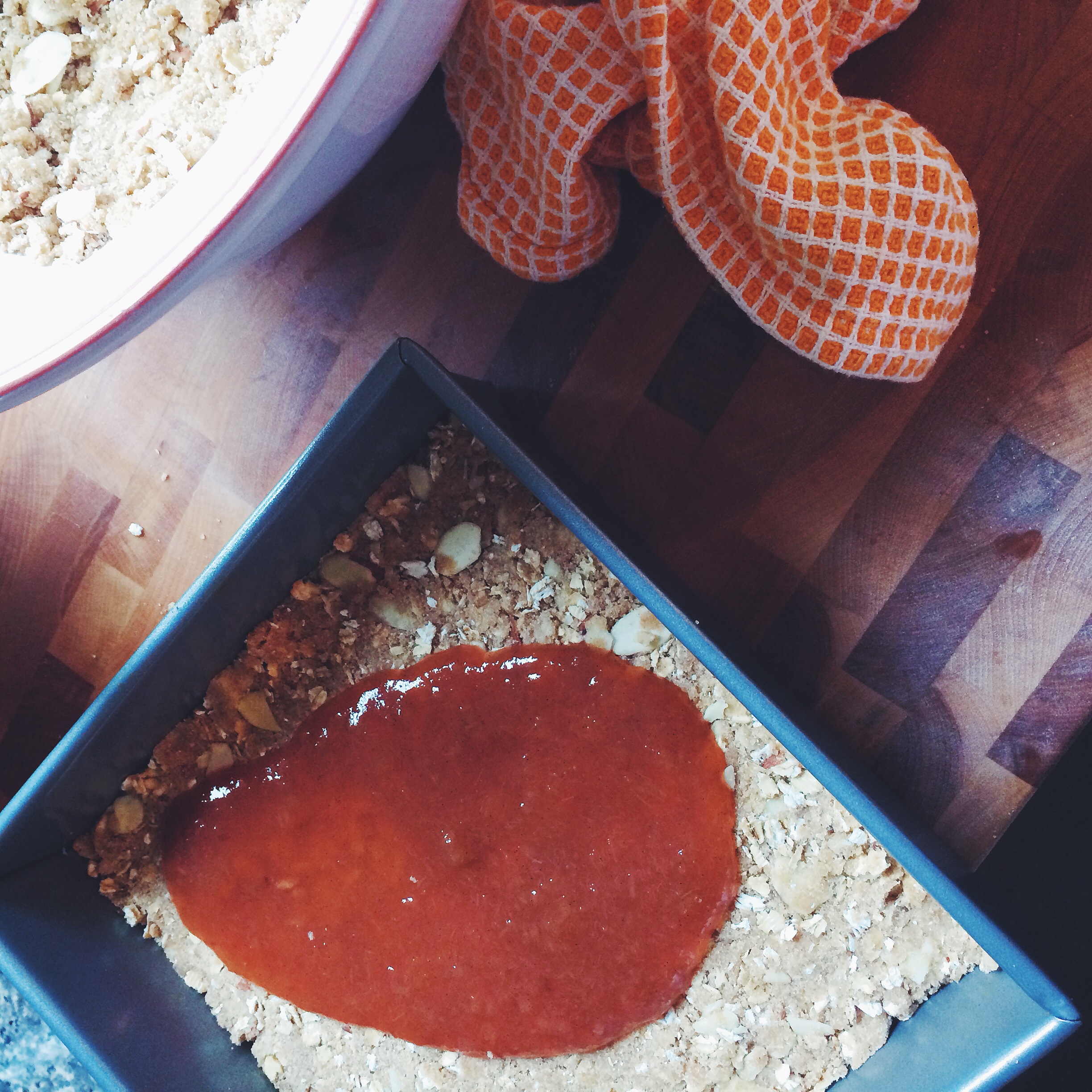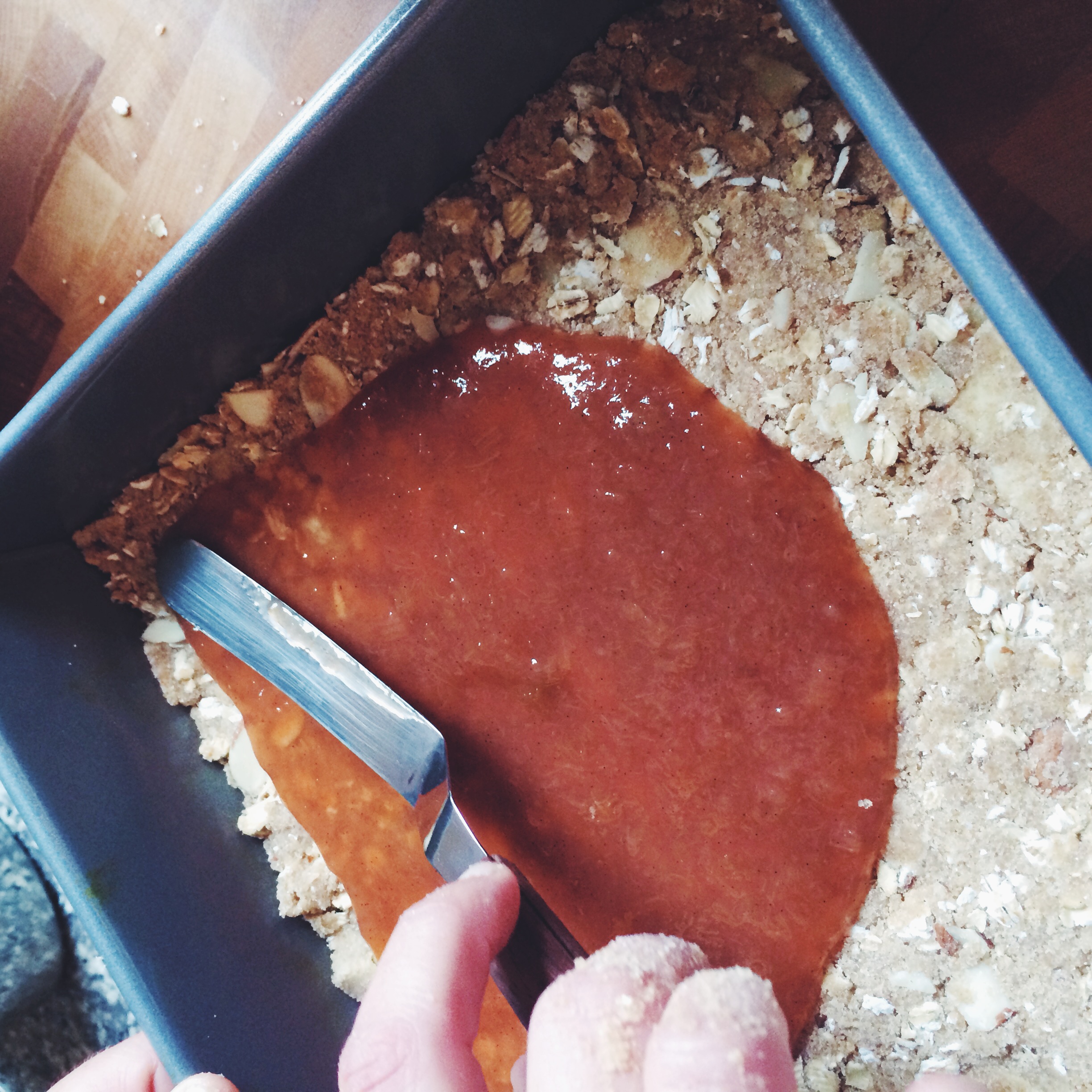 Rhubard Earl Grey Oatmeal Bars
bake in 8x8 square pan
makes 16 bars
1 c AP flour
1 c rolled oats
3/4 c packed brown sugar
3/4 c TRF Rhubarb Earl Grey spreadable fruit
1/2 c sliced almonds
1/2 c butter, cold
1/2 t sea salt
1/2 t ground cinnamon
1/4 t baking soda
Preheat oven to 350º
Cut cold butter into quarter sized pieces, and place back in refrigerator until use.
Whisk together flour, oats, brown sugar, sea salt, cinnamon, & baking soda.
Stir in almonds.
Add butter and rub together with fingertips until crumbled. Almonds will break during this step, don't worry. Do not over-mix, as you want the butter to stay cold. (image a & b)
Take 3/4 of this mixture (about 2.5 cups) and, using a measuring cup, lightly pack onto the bottom your square pan, so that it has a smooth surface to spread the jam onto. (image c)
Using an offset spatula, spread the jam onto the base, leaving a 1/4" border around the edges. (image d)
Take the remaining 1/4" of your crumble mixture, and sprinkle it to cover the jam.
Bake 30-35min until lightly browned.
Remove from oven and let cool completely in pan.
Once cooled, cut into 2" squares and enjoy!