I am not a first generation cook. There are strong familial roots to my culinary dedication. My family has been close to our food for generations. My paternal Grandfather, Romolo, was an Italian immigrant turned Philadelphia-printmaker. His mother, my Great-Grandmother, was an amazing cook. Everything in her kitchen was from scratch. My favorite stories of her involve a clothesline in the backyard and miles of pasta ready to dry. My paternal Grandmother was born on a Virginia farm where they raised tobacco, pigs, and watermelon. When my grandmother married, she moved into my Grandfather's house with his eight siblings and his parents (who had yet to learn English). My Grandmother quickly found one of her greatest loves in Italian cooking. The first things her mother-in-law insisted she learn in the kitchen were spaghetti and sauce. My grandfather also shared the responsibility of cooking for the family, and he had a special talent for traditional recipes. As he was growing up my own father paid close attention in the kitchen, and you wouldn't be able to tell the difference between his meatball, his father's, and his grandfather's. I also paid attention and I cherish the art of creating a traditional Italian recipe from scratch. I am sharing here two of the foundational recipes in any Italian kitchen, Pasta (from-a scratch-a) and Basic Marinara.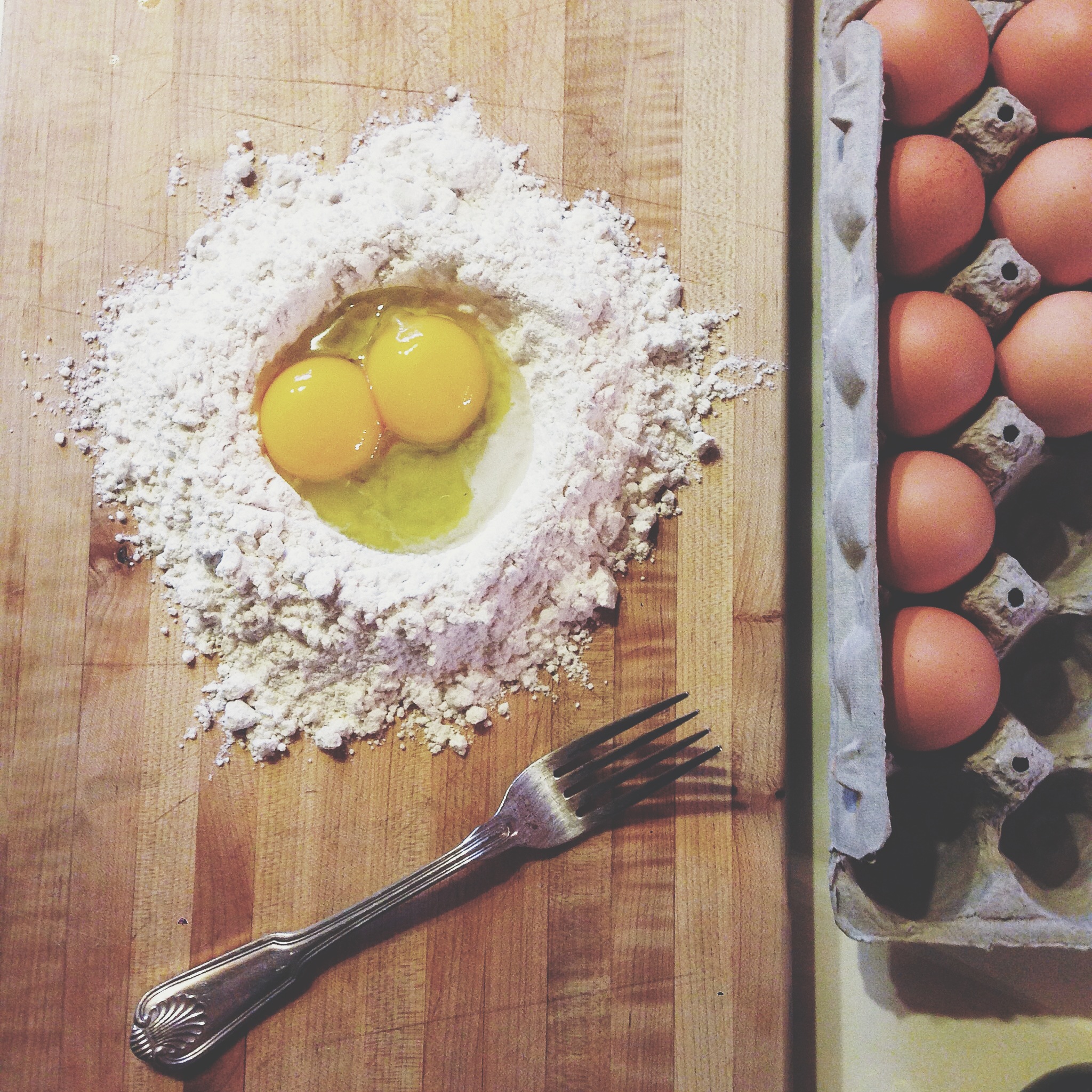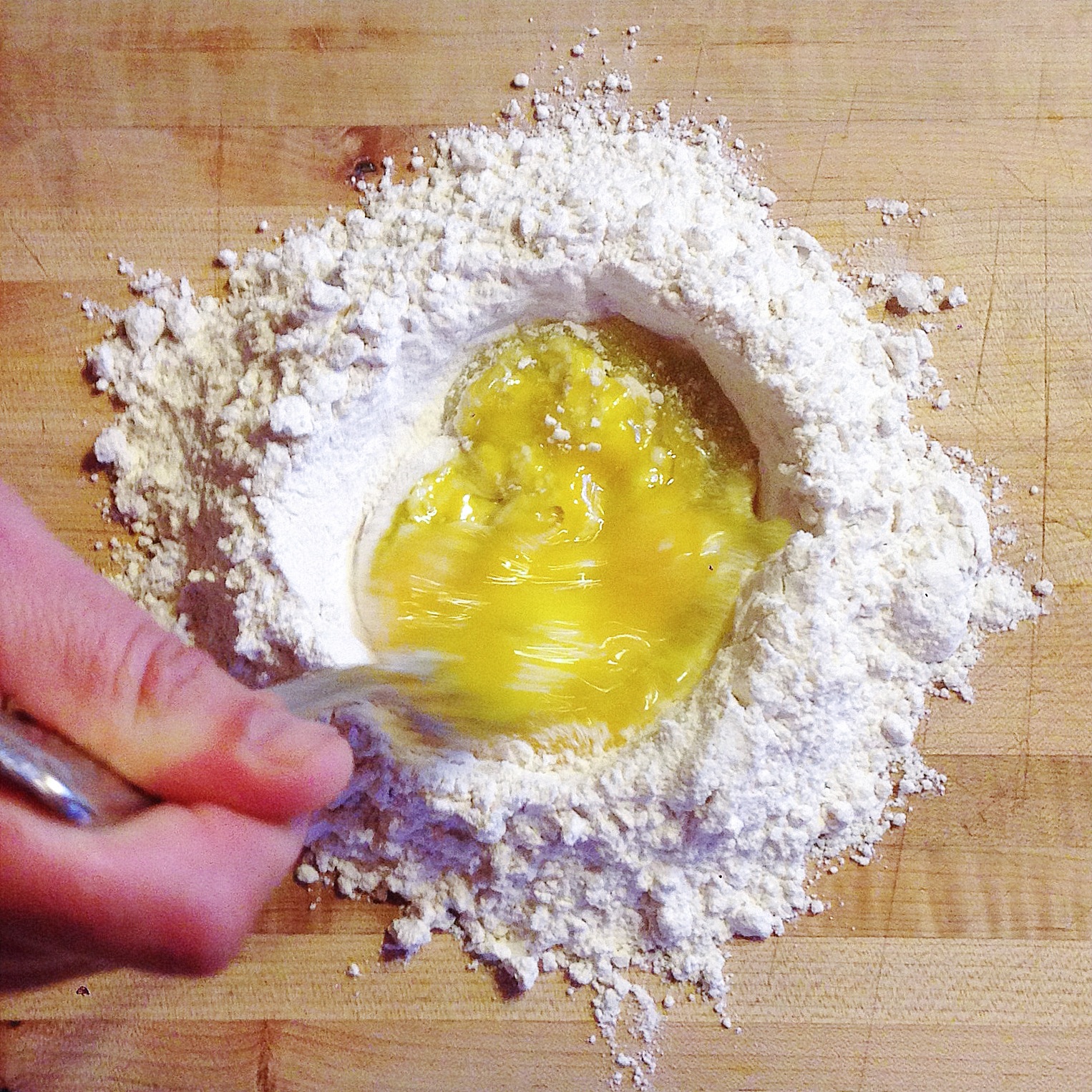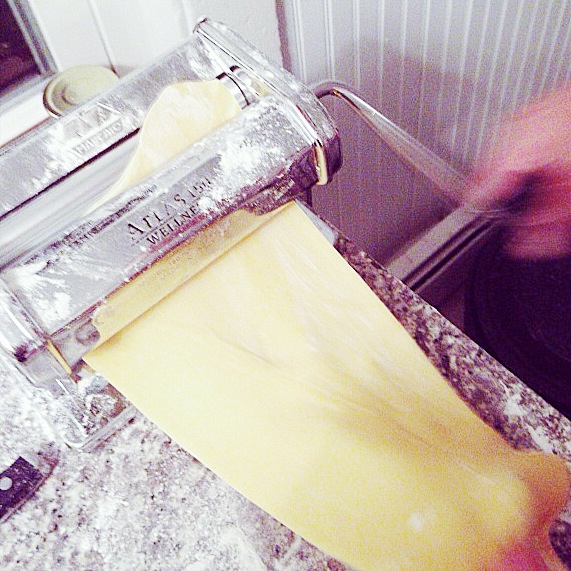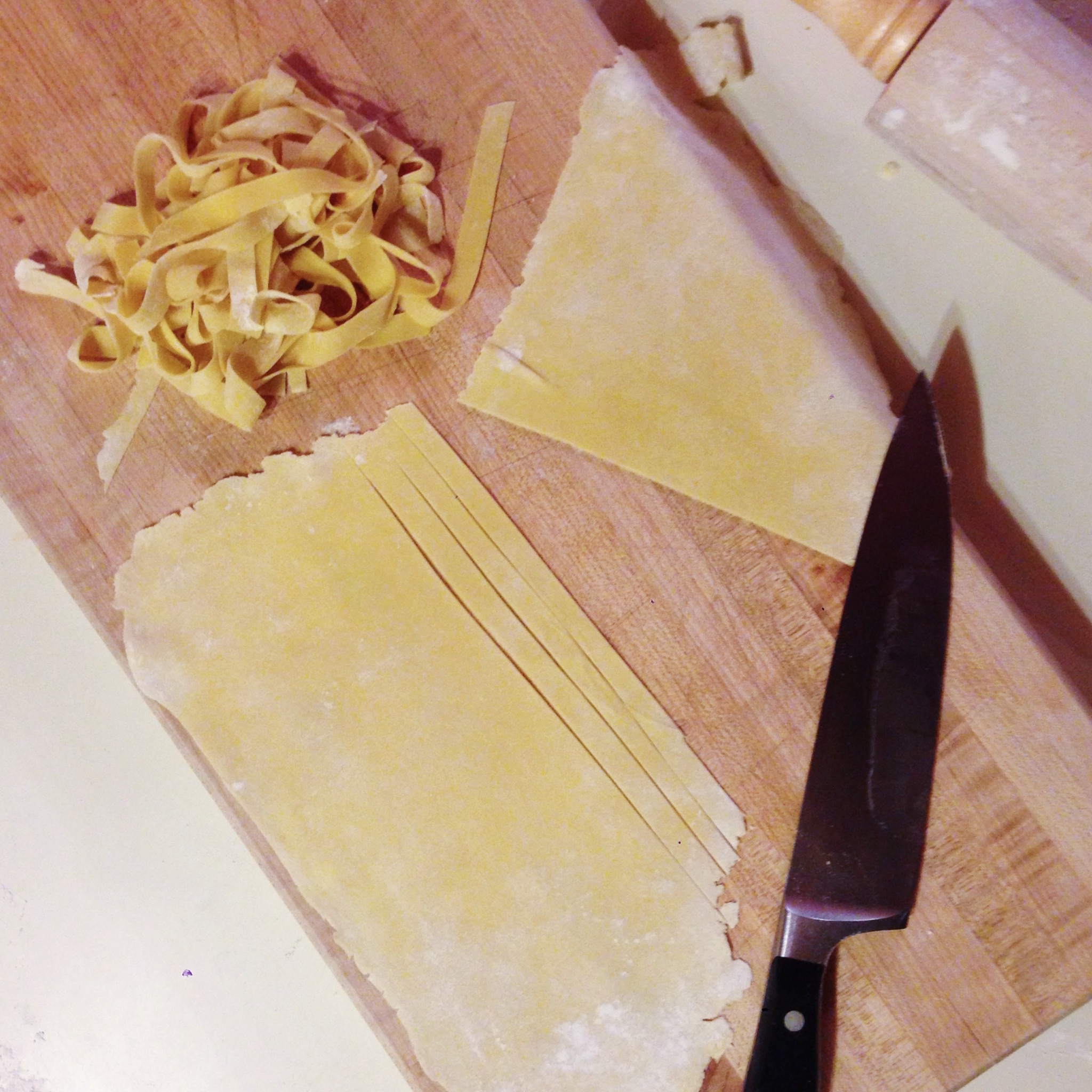 Pasta (from-a scratch-a)
1 c. 00 flour (AP works fine)
1 T olive oil
1 T water
2 egg yolk
Make a volcano with the flour and drop the other ingredients in its pit. With a fork slowly swirl the liquids incorporating bits of flour as you run around the center of the cauldron until all of the flour has been incorporated. Knead the dough for about 5 minutes until it bounces back when you press a fingerprint in the dough. This is a rough recipe, because as my grandmother remembers, it was never about measurements, but "feeling the dough". If it feels crumbly, put some water on your fingertips as you continue to work the dough. It is better to slowly add water to dry dough, because it is very hard to correct an overly wet dough.
Notes:
To mix and knead with an electric mixer use the paddle attachment to bring the dough together, then switch to dough hook to knead for 5 minutes.
Once dough has formed, shape into a round disc and rest in the refrigerator for at least 30 minutes. For ultimate freshness, use dough within 24 hours. It will keep up to a week in the fridge. Warning: after 24 hours, the eggs will oxidize and turn the dough green. This is normal and the color will disappear when the pasta is cooked.
To roll out the dough, you can use either a rolling pin (it's a good upper body workout!) or a pasta roller. Work with 1/4 of the disc at a time.
Create any shape or style of pasta with this dough. Spaghetti, fettucini, linguini, ravioli, or wide sheets of lasagna.
Basic Marinara
1 (28) oz. can San Marzano or Italian paste tomatoes
1 T tomato paste
1 carrot, small diced,
1 onion, small diced
3 garlic clove, minced
1 great handful of basil, cut into ribbons (chiffonade)
Cook the carrot, onion, and garlic in a little bit of olive oil. When the onions have softened a bit (3-4 minutes), add the tomato paste and, using a wooden spoon, coat the vegetables and let the paste spread a little. Add the tomatoes and let simmer for 15-20 minutes until the sauce is thick and to your liking. Add the basil. Use this basic sauce to toss your fresh pasta in, spread over a pizza dough or even poach eggs in and mangia bene!!